Making tasty coffee with frothed milk at home has never been easier. With the press of a button, you can heat and foam the milk in seconds. We have examined the best milk frothers available in 2023 (their price range $8-$70). There are three types of milk frothers – automatic, handheld and manual milk frothers.
Today you don't have to go to a expensive coffee shop to get foamy milk included in your coffee cup. Doing this in the comfort of your home is now easier than ever. Sure you can use many different items already found in your kitchen to make milk foam, but a dedicated frother is precisely designed to create that special foamy milk froth. Below you will see our list of recommendations of what we think are the best milk frothers suitable for your everyday cup of coffee.
On the market, there are several milk frothers that you can look and choose from. As in most cases, the same applies here where some products are more popular, better and high quality, while others are not below average. Frothing yourself lets you pick out the kind of milk, and you can be sure it is fresh. Listed below I have constructed couple of tables and overview of what are the best frothers in my opinion.
Basically there are three types of frothers available: stationary electric, handheld electric and manual ones.
| 1. Electrical Frothers | 2. Handheld Frothers | 3. Manual Frothers |
| --- | --- | --- |
| | | |
| PROS: | PROS: | PROS: |
| Versatile and most easy to use. Looks like a tea kettle, looks good in the kitchen. No need to have an extra cup for the milk. Pour cold milk into the frother and with a push of a button you have frothed milk at your fingertips. | Handheld electric frothers are basically a motorized mixer that makes foam by rotating a whisk inside of milk. They are usually battery powered and thanks to their basic design very cost-effective. Usually get the work done quite well. | Manual frothers offer an easy alternate way to froth milk for coffee. The spectacular part of these frothers is the awareness that they do not need batteries or electricity to run. The manual milk frother will make great, velvety quality froth for your self-made coffee drinks. |
| CONS: | CONS: | CONS: |
| Naturally the electric stationary models are the most expensive of all the frothers, but you get the frothing done the best way it can be done. | The disadvantage of handheld models is that you'll have to heat up the milk on their own in either a microwave or stove before foaming it. | The manual units do not give as great a quality of foam as with automatic or handheld units, neither do they heat up the milk, however, they do take less time to work compared to electric frothers and your coffee will taste quite good. |
So, let's get to it! Here are the 14 frothers we've chosen:
1. STATIONARY ELECTRICAL FROTHERS:
Zulay Milk Frother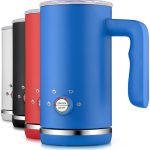 This is absolutely one of the the best automatic milk frother/steamer. It's a stationary and electrical as you can see on the photo. One of the very few models that offers a selection of color – white, black, red and blue. It's easy and effective to use too. Perfect for any type of espresso-based drinks, foamed-milk coffee, matcha latte, hot cocoa, chocolate milk, and more. It has a 150ml capacity for milk frothing and 300ml capacity for milk warming. A cold froth option is also available on the knob. There are not many frothers that come with these features. This Zulay frother is an absolute superstar in the kitchen, its first-class functionality is met by classy design and sits nicely in the kitchen. The Zulay is a reasonably-priced model, but is also onethe best(if not THE best) milk frother and it's worth every penny – coffeehouse quality at home.
EZBASICS Electric Milk Steamer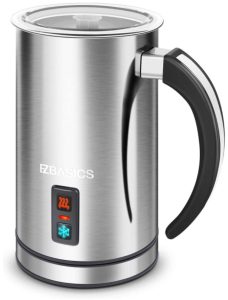 The Ezbasics is an excellent appliance for warm milk or great tasting milk froth that is either hot or cold. Lots of milk frothers only give you the choice of hot foam. But the Ezbasics extends your choices by allowing you make the froth either hot or cold. So it's suitable for finish up iced coffee or cool cocktails, as well ashot cappuccino or cacao. Within couple of minutes, you can easily have warmed froth prepared to pour into your coffee. Where this unit really stands out is its removable jug that makes pouring and cleaning easy. Its well-built motor makes opulently dense, creamy and long-lasting froth from whole milk. It can make foam out of low-fat and non-dairy milks such as soy or almond milk. No need to buy whipping cream from the store again! Stainless steel construction comes with a practical vacuum insulation. Tough stainless steel is as stylish as it is simple to clean up and hard to wear out. The jug is vacuum insulated to hold the inside content either hot or cold for long. This is a machine to produce frothed milk without paying a fortune & using up a lot of counter space. This ESBASICS automatic milk frother comes fitted with a Strix Temperature Controller.
Secura Automatic Electric Milk Frother and Warmer
One more high quality unit in the electrical stationary section of frothers, the Secura Automatic Milk Frother foams milk at all temperatures, while also excelling with milk warming so it is all set for your next fancy coffee in just a few minutes. This convenient product certainly makes the entire process easy. Hot and cold frothed milk for cappuccinos, hot milk for lattes – excellent! There are maximum and minimum level indicators for your convenience. Its stainless-steel design also comes with vacuum insulation. The base is removable. However, no milk steaming with this unit, but since it is not a handheld frother, it can warm up your milk just fine. The insides of the carafe is covered with a non-stick surface that makes cleaning very easy.
Secura Detachable Milk Steamer/Frother
The Secura electric milk frother allows you make coffee shop lattes in your home. Make cappuccinos, lattes or just boost your regular coffee with some extra froth. It will heat the milk right away and any coffee drinker can appreciate it's foamy milk it creates. Built from stainless steel and fully detachable, it looks fantastic and is easy to clean up. This appliance can transform your morning coffee into a wonderful experience, or for those who don't drink coffee at all, you can just heat your milk for a nice warm cup of milk. I no longer stop for coffee anywhere. The colors on the button will indicate either hot milk, hot chocolate or cold milk foam. To sum up, this machine from Secura will ease your frothing task and also will look good in the kitchen.
Huogary Milk Steamer with Hot and Cold Froth Function
Huogary is another excellent electric frother that can also heat up milk. All this occurs with the press of a button on the front. The frother heats and creates rich airy foam quite fast and is fantastic in making lattes, chai, hot chocolate and cappuccinos. Reasonably priced at around 30-40 dollars this frother has three options – hot milk, hot milk froth, and cold milk froth. Maximum frothing capacity is 4.44oz (130ml) which is about two cups. The base is detachable for convenient pouring. Like most of the other electrical stationary units, this also has non-stick interior for easy cleaning. The Huogary can also be used consistently without waiting for a long time, simply press the button and wait around two minutes for each use. It's white/stainless steel look is stylish and can without a doubt fit together with any kitchen interior. At this price, there's nothing much to be complaining about.
Huogary N11 Milk Frother
Another great milk steamer from the same manufacturer with a different look. A great accessory for your kitchen is this maximum capacity of 10.5oz (300ml) Huogary Milk Frother that delivers a nice froth of milk to save you money and time. It is manufactured out of stainless steel and comes with a double-wall design. Luscious thick froth is said to be created very fast and this nice jug can also heat up the milk up to 150 degrees F. Washing this model is as simple as with many other electric frothers, just remove it from its bottom part and run warm water inside the jug. With the detachable bottom, you can bring the milk without difficulty anywhere you want to serve your hot milk or foam. This Huogary N11 can be a life changer for your mornings. This budget friendly milk foaming unit is full of power but will customer feedback is that it also operates quietly at the same time too. No need to worry about waking others and the cleanup is quick and easy. The N11 comes in white and black colors.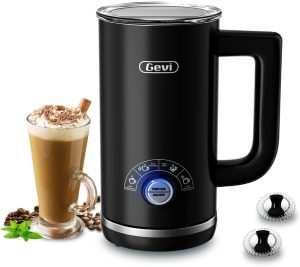 Gevi Milk Frother
This Gevi unit is another excellent model that stands out. At around 40 to 50 bucks, you'll get a fantastic appliance that can heat up milk almost immediately thanks to solid heating technology and in fact create amazing froth for your coffee topping. Making hot chocolate, hot milk foam and cold milk foam is not an issue either. Maximum & minimum volume level indicators are clear to understand. It can be cleaned easily Interior of the jug is coated with a non-stick material, therefore making this unit very easy to use and clean. Naturally this Gevi frother has a detachable jug for easy serving of your freshly done milk. No need to go to starbucks for amazing foamy milk latte with this quality Italian made(Made in China but designed and developed by an Italian guy) Gevi frothing appliance.
Pansonite Milk Frother
The Pansonite automated milk frother has a variety of options to suit different tastes and textures. There are four options to choose from: cappuccino (latte), hot chocolate (hot chocolate), and cold. This allows for temperature and texture changes at the touch of one button. It's large capacity(11.8oz – 350ml) makes it convenient. The machine runs quietly and quickly, creating thickest foam in as little as 2 minutes. You can place the stainless steel jug in the dishwasher. This frother is praised by reviewers as it delivers "exceptional performance at an affordable price."  Some say that it produces beautiful foam with non-dairy and low-fat milks. Enjoy your barista-level coffee!
2. HANDHELD FROTHERS
Kuissential SlickFroth
If you are looking for a more simple frother, then an electrical handheld Kuissential SlickFroth can fit the description nicely.  Even though it's powered by two AA batteries (which are not included) it still operates exceptionally well. Thanks to its torque-full motor, this little unit creates magnificent foam for any of your drinks you wish to. Kuissential's device is little and costs under 10 bucks, but still managed to do the job quite well. The downside being that you still need a nice jug to go along with this and there is no heating option for this obviously. Remembering to replace the batteries can be a hassle for some people. Cleaning it is rather easy, just place the lower half of it into soapy water, and push the button to spin it around and it's completely clean.
Zulay Handheld Milk Frother
This handheld battery operated mixer can easily blend all sorts of stuff, including protein powders, raw eggs, cream or milk – with zero lumps. It has a powerful two-speed motor that creates impressive results. If you don't have space for a stationary jug unit then this little mixer can do some proper frothing as well. Because of its small size and no cables, it's easy to take it with your travels. The amount of colors available for this model is exceptional – 36 different colors. Can easily be cleaned too, under a running faucet for example. Clearly the Zulay frother here cannot heat up milk, but if that is not important to you, or if you have another device for heating up your milk, then this is a good addition to your kitchen equipment.
MatchaDNA Handheld Electric Milk Frother
The Matcha DNA Milk Foamer transforms your milk rapidly into a soft frothy foam in just a few moments. It lets you to make fluffy and aerated milk based drinks (hot or cold) conveniently. This unit runs with two AA batteries (not included), but is still powerful enough to create that ideal froth for your morning coffee and because of it's small size can easily be hidden away into cupboard if not in use. The bottom part, the whip and shaft are made of stainless steel and the top handle is durable ABS plastic. Sure, if you want to use hot milk, you'll need a stationary frother, but with such a low price tag, you can't expect to do everything. Definitely a choice if you're in a low budget.
3. MANUAL FROTHERS
HIC Milk Creamer Frother
This 14 ounce capacity stylish stainless steel milk frother not just looks good but is quite affordable. With this manual frother you can have a tasty milk foam on top of your coffee right in the convenience of your home, no electricity needed. It's powered by your hand – pour cold or warm milk into the jug, close the lid and pump up and down the plunger. It's the most simple milk frothers available, there is no electronics, cords, batteries or complex machinery, just move the plunger around and the milk becomes a nice foamy milk – all that in less than 60 seconds. Its stainless steel looks beautiful and it can be placed in a dishwasher. A nice creamy finish for your milk is now hassle-free with this HIC Milk Creamer product.
Bellemain Hand Pump Frother
The Bellemain delivers a manual model which frothing activity works by pumping the milk through the stainless steel mesh inside the plunger. Based on how dense you like it, your froth will be all set from 10 to 100 pumps, that may take you about 30 seconds or less. That's quicker than many of the electric models priced twice as much! This product is sturdy enough, does not need electrical power to operate and has a BPA-free dishwasher safe design that take away the inconvenience of manual washing after each use. Again, as with all the manual units, these are simple by design and are hard to break while still giving you that nice froth you're looking for. Its capacity is 14 oz.
Bialetti Tutto Crema
Last one on the list, is a surprisingly effective appliance. This elegant Bialetti unit froths manually and due to it's unique "double-froth-screen" attribute can create thicker and creamier froth for your coffee. The Bialetti Tuttocrema frother can easily prepare your topping for your drink, has a heat resistant handle and is acceptable for use on gas, electric and ceramic stove and, undoubtedly is dishwasher safe. This model is offered in two sizes, for 3 or for 6 cups, whichever you'd like to choose. This appliance is little bit on the expensive side compared to other manual foamers, but its well worth the money once you have made your first creamy froth at your home. No electrical wires and no worries with this simple, yet elegant item in your kitchen.
Conclusion
You don't have to go to a coffee shop and get a cup of overpriced coffee just to enjoy that neatly frothed, delightful milk. With one of these products outlined above, you can do it yourself in the bounds of your home so you can add wonderful milk froth to your beloved cup of coffee each day.
So which one to select? It's hard to tell, you have to make that decision by yourself, perhaps get all 3 different types of frothers – one manual, and one small battery operated model and a large jug that can also illustrate your kitchen.